Recruiting and hiring are some of the most expensive tasks for a business to undertake. It takes an army to sort through endless resumes, contact potential candidates, go through the interview process, and then onboard them. To add fuel to the fire, many organizations often have to keep repeating the time-consuming and costly practice of recruiting new employees because a new hire often turns out not to be the right fit. But, with on-demand recruiting, companies can reduce their energy on recruitment initiatives and find better hires more quickly.
What Is On-Demand Recruiting?
On-demand recruiting is different from traditional recruiting methods. In a traditional recruiting setting, organizations typically have a full-time, multi-person, HR department on staff or completely employ an outside recruiting agency to address their hiring needs. These recruiters work to find candidates for different positions, and when it comes to outside agencies, they are often paid a flat rate regardless of if you are utilizing their services or not.
Traditional recruitment methods focus solely on getting people into your open positions. Often, this process takes a long time when it includes the full cycle of searching for, interviewing, and onboarding candidates, and then, you still run the risk of hiring someone who is not the right fit for the role.
DYK? Traditional recruiting firms charge 20-80% of each new hire's salary.
On the other hand, on-demand recruiting is centered around finding the right people at the right time for your open positions. While the overall goal is to find quality candidates and fill roles quickly, on-demand recruiters will augment your internal team and take care to understand the culture and needs of your company and work to connect you with top talent.
To meet your talent needs, on-demand recruiters work by the hour or on a project basis. What does this mean for you? Your company will only pay for the services you use, and not the ones you don't. This flexibility in pricing allows on-demand recruiters to adapt to trends quickly. They are able to quickly pivot when your market demand makes a shift. Unlike on-demand partners, traditional recruiting cannot move as quickly to adapt to these changes; this means you may be missing out on some quality candidates during a time of transition.
@IQTalent says that #OnDemand recruiting can save you time and add value to your existing hiring process. See what benefits you'll find when you #augment your recruiting with an on-demand partner:

Click to Tweet
As we adjust from a period of intense disruption and face a tight and challenging labor market, it's high time you update your methods for attracting and recruiting candidates. Below we'll demonstrate how on-demand recruiting can help you find better quality candidates and protect your bottom line.
How Does On-Demand Recruiting Help You Save?
It's no surprise that hiring is a large expense of companies, especially if they continuously have to search for new talent. The Society for Human Resource Management estimates that in 2021, it takes an average of 42 days and $4,129 to hire a new employee. If you're spending that kind of money on finding and hiring a new employee, you want to be certain that they are the right fit for the role and will stick around. Otherwise, you have to start the hiring cycle over again.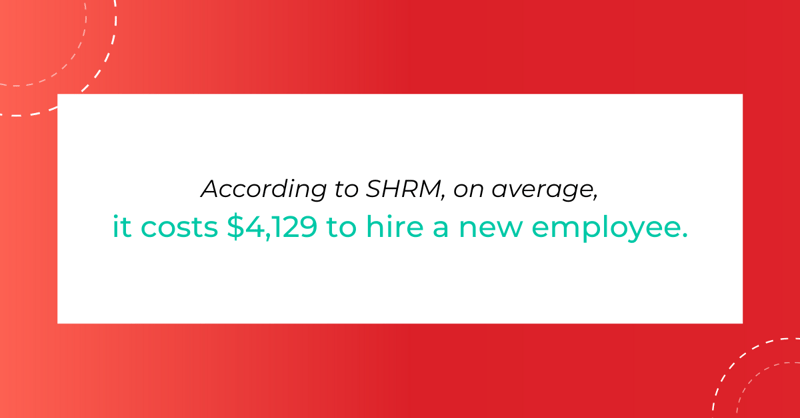 With on-demand recruiting, you can be certain that you're hiring candidates that will mesh well with the culture of your team, and you can save money and time while doing so. On-demand recruiting adds value in a variety of ways:
Trackable Return on Investment: With complete access to your data, on-demand recruiting gives you the key metrics you need to track your return on investment. This helps you see whether your efforts are worth the cost of investment and gives you insights into the state of your candidate search.. What's more, the transparency of your data gives you access to a database of potential candidates, the average time to fill, and other key metrics to give you an overview of the effectiveness of your recruiting efforts.
Saving You Time: It's a common adage, "time is money." But the truth behind that phrase cannot be overstated. The more time your recruiters spend trying to find new hires, the less time your team has to act strategically within their roles. With on-demand recruiting, you can cut back on time you spend recruiting. With the support of a team of experts in the different phases of the hiring process, you can get your recruitment efforts down to an exact science.
Adaptable Model: On-demand recruiting uses an adaptable model. This means your recruiter on-demand will be flexible and mold to your business needs. Additionally, this allows change for whatever the market might throw at you. With an adaptable model, you'll be able to continuously expand your company in exactly the way you want it to grow.
Augment Your Internal Team:

Without the need to expand your full-time internal recruiting team, your organization can save on the costs of salaries, benefits, and other incurred costs associated with full-time employees. This enables your organization to protect the bottom line and control spending.
Because the cost of recruiting and hiring new employees is expensive, you want to be sure you get it right the first time. Your best bet for finding quality talent efficiently is to invest in an on-demand recruiting partnership. But, it isn't as simple as hiring an on-demand expert and letting them loose. Your organization needs to be sure to take the necessary steps to set itself up for success. Below we'll discuss what you can do to start your on-demand partnership off on the right foot.
Tips For Successful On-Demand Recruiting
When it comes to on-demand recruiting, having a quality candidate sourcing strategy can go a long way. A strong partnership between you and your on-demand recruiter starts with open communication and honesty in expectations. As a business, you should know what qualities you want from an ideal candidate. Together, you and your on-demand recruiter should collaborate to describe the ideal candidate profile, including things like educational background, personality and work experience, desired traits and qualities, and more. Discussing these ideal traits and writing them down will help your on-demand partner find better candidates and ensure that the people you interview fit your mold for an ideal teammate.
Additionally, you and your partners should create a process for what the hiring timeline looks like. You need to know what the approximate time to hire might be for the role, and your on-demand partner needs to know what time constraints you have to workaround. This helps you to better budget for the costs associated with hiring for a role and gives you a better view of how quickly you can realistically interview, hire, and onboard a candidate.
@IQTalent says that you can save time and add value in your hiring efforts with the support of an #OnDemand #Recruiting partner. See how:

Click to Tweet
Once you've calibrated the ideal candidate profile and nailed down the desired timeline, you need to shift your focus to creating compelling and insightful job descriptions. Having a specific job description that spells out necessary qualifications, skills, and responsibilities will help your recruiters find the best talent available. Be clear about the expectations for the position, their job duties, and the standards of filling the role.
Don't forget to consider your company culture during the hiring process! Company culture can make or break a potential hire. Identify what the culture and core competencies at your organization are like, and convey this to your on-demand recruiting partner to ensure they find someone who would fit in well.
When it comes to successful on-demand recruiting, over-communicating your needs is always your best bet. Your partnership with the on-demand recruiter needs to be collaborative to ensure you get the best hire for your role.
On-demand recruiting is a lifeline for organizations looking to hire top talent quickly, effectively, and efficiently. By taking the responsibility of candidate sourcing and screening for you, on-demand recruiters can save your organization time and money. This leaves you more space to act strategically within your role and ensure your new hire is onboarded effectively.
Are you looking for professional recruiting with immediate results? IQTalent Partners can help by augmenting your internal team to find stronger candidates while sticking to your specific budget. For more information about how our on-demand experts can help you reach your recruitment goals, contact us today and schedule your free consultation!